Welcome to arthobbs.com
Paul Hobbs makes both celebratory abstract paintings, and painting and sculpture that consider contemporary social issues in the light of biblical values. He exhibits frequently, and gives workshops and talks about his artwork, its themes and his method of working.
Recent works include two commissions of Jesus and Mary for St Michael and All Angels Church in Lancing, the conceptual works Health Check and Stations, and the Unknown Martyrs series of icons on contemporary persecution.
Recent shows included exhibitions in Ridley Hall, Cambridge and St Mary's Church, Bibury in Gloucestershire. Forthcoming exhibitions include two events at Bath Abbey for 2024.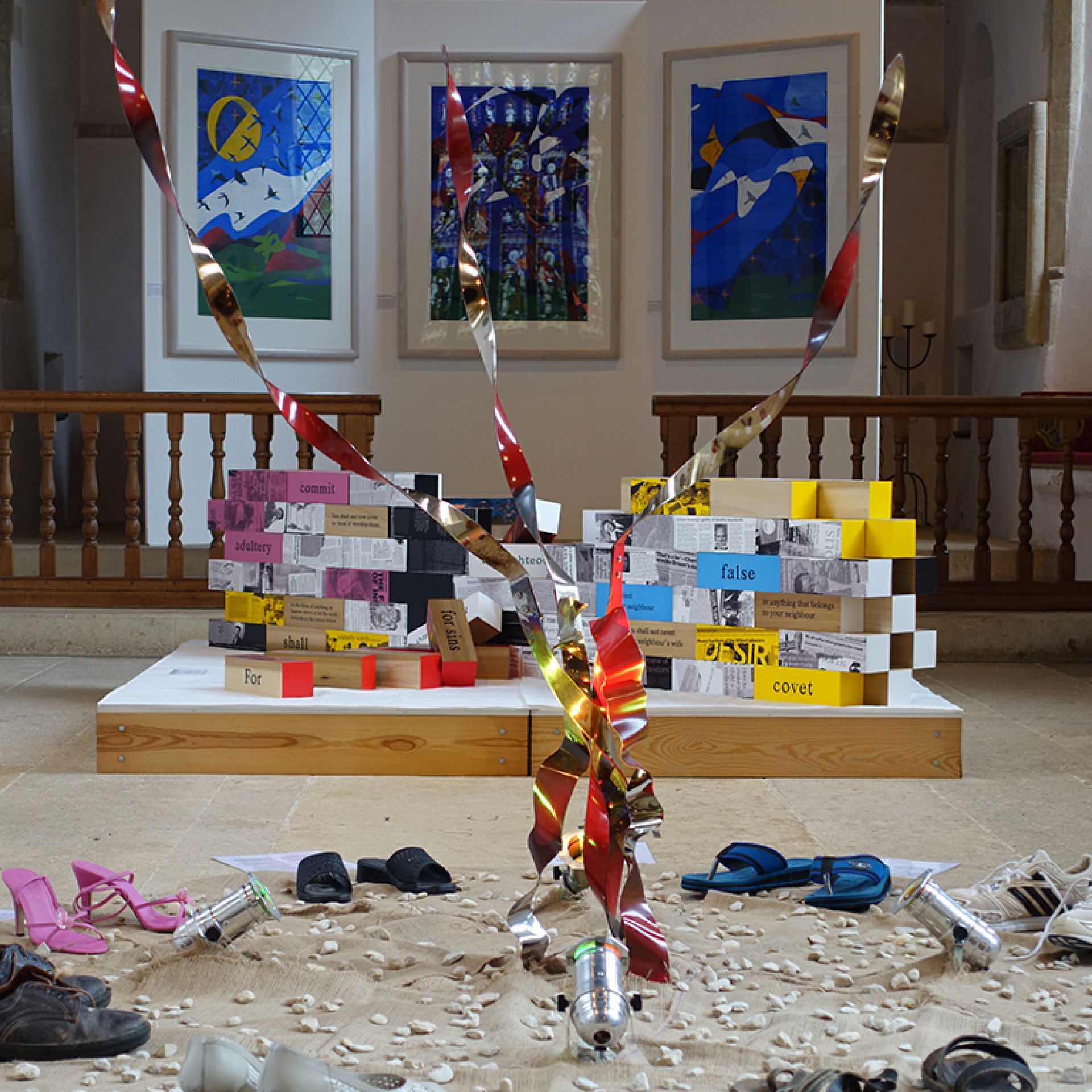 Thought-provoking and intriguing exhibitions in schools have enabled pupils to explore social and political issues in relation to the Christian faith, and to understand and appreciate contemporary art through a range of artistic styles and media. Read more here...
High quality exhibitions in churches and cathedrals have engaged viewers with questions of faith in relation to contemporary life. The artwork explored issues of belief in God and concerns for justice and human dignity. Read more here…

The artwork is stylistically varied and will be of great interest to visitors for its concepts, techniques and processes. The themes addressed by the images cover all kinds of social and religious issues, and have proven stimulating and engaging to every kind of audience, young or old, religious or atheist, artistic or not.
The exhibitions provide a comfortable, low-key way to explore faith in God, stimulate deep thought about ethical issues, and build links with the local community through a range of events.

Unknown Martyrs is a series of new works to commemorate modern saints from a range of countries and different situations where believers suffer today for their faith in Jesus Christ. Made with reference to traditional icons they use modern figures and symbols to tell contemporary stories of resilient faith under fire. View artwork here...
These are available for a stand alone show, or as part of the larger mixed media exhibition that Paul puts on.

The Holy Ground Installation is a collection of shoes and stories from Christians all around the world. The stories are short statements about what it means for each person to believe in Christ in their particular situation. These absorbing and inspiring stories, read alongside the shoes the writer has given, have proved both enlightening and challenging, enabling viewers to think deeply about the world we share today.' Read more here…

Purchases, Bookings and Enquiries
To purchase an Original Artwork please contact the artist to arrange viewing, payment and delivery.
Prints, cards, booklets etc are for sale via the online Shop. Delivery is free to UK addresses. Otherwise please contact Paul Hobbs for costs.
For enquiries about exhibitions, workshops or talks please:
The artist is very happy to discuss how an exhibition might work, including selection of artwork, general approach, and how to engage the community.